ABOUT LYETH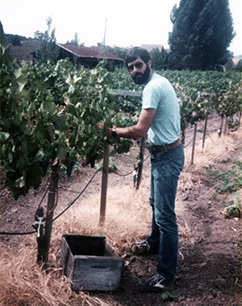 Chip Lyeth, founder of Lyeth Winery was an adventuresome spirit, who was the son of a Colorado banker whose passion for winemaking and grape growing grew out of a 1972 family trip to Bordeaux, France. It was this visit to the wine country in France that Chips passion for blended wines became firmly rooted. His education into Bordeaux blends became an obsession.
The next year (1973) Chip bought the 285-acre Brignole Ranch in the Alexander Valley and studied winemaking and viticulture at UC Davis. The winery was built in 1978 and Chip produced his first wines there in 1982. His wines received instant acclaim from critics who characterized Lyeths' wines as Bordeaux-style blends.
In 1988, Chip teamed up with several other winemakers; including Bill Arbios, Lyeths' winemaker, who celebrated the Bordeaux tradition of blending varietals and created the Meritage Association. The philosophy is the blend must be created with only "noble" Bordeaux varieties – by creating standards, only high-quality wineries would produce Meritage labels; thus, elevating the status of blended wines.
The spirit of Chip Lyeth carries on with each vintage as a homage to the American ideal, as it was not popular in the early days to eliminate the varietal designation on the label; in fact, it was a revolutionary act at that time in the wine industry.
The same spirited character and quality exist today in our Lyeth Sonoma County and California Red Wine and Cabernet Sauvignon. Chip would be proud to see the results of his risk-taking still alive and well in the heart of California wine country.
---
WINEMAKER, Katie Carter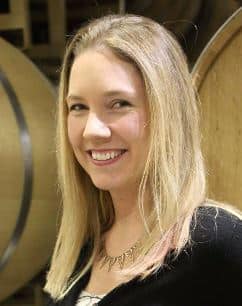 A true local, Katie was born and raised just five miles northwest of DeLoach Vineyards in the town of Forestville. A 2003 graduate of UC Berkeley's Biology program, Katie's deep love of nature and all creatures great (frogs) and small (yeast) led her to a variety of lab and field research jobs before eventually taking a harvest position. Enchanted with the pace, spirit and purpose she found in winemaking, her enthusiasm led to several additional winery lab positions following that first vintage.
Katie joined Lyeth in January 2014 having held the position of Assistant Winemaker at DeLoach Vineyards. As Lyeth's winemaker, Katie is responsible for sourcing, producing and blending our Lyeth Estate wines and is excited to continue the tradition of creating beautiful, distinctive wines with unique characteristics.