In This Section
The flagship wine for Lyeth Estate is Meritage, which is a blend of Bordeaux varietals including Cabernet Sauvignon, Merlot, Petit Verdot, and Cabernet Franc. As such, our Lyeth varietal wines were introduced and include the components of Meritage: Cabernet Sauvignon, Merlot and Malbec.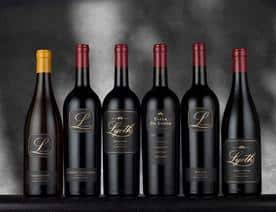 In 2010, the affordable Fleur de Lyeth was introduced in response to growing consumer demand for red blends, and is a lovely trilogy of California appellation varietals.
Lyeth Chronology, a Reserve Cabernet Sauvignon, was introduced in 2011 as a link between the past and the future. Chip Lyeth's reverence for Cabernet Sauvignon provided the foundation, and our evolution in style provides a glimpse into the future of Sonoma County Cabernet Sauvignon. Chronology is a beautifully expressive wine that we are truly proud to share with you.